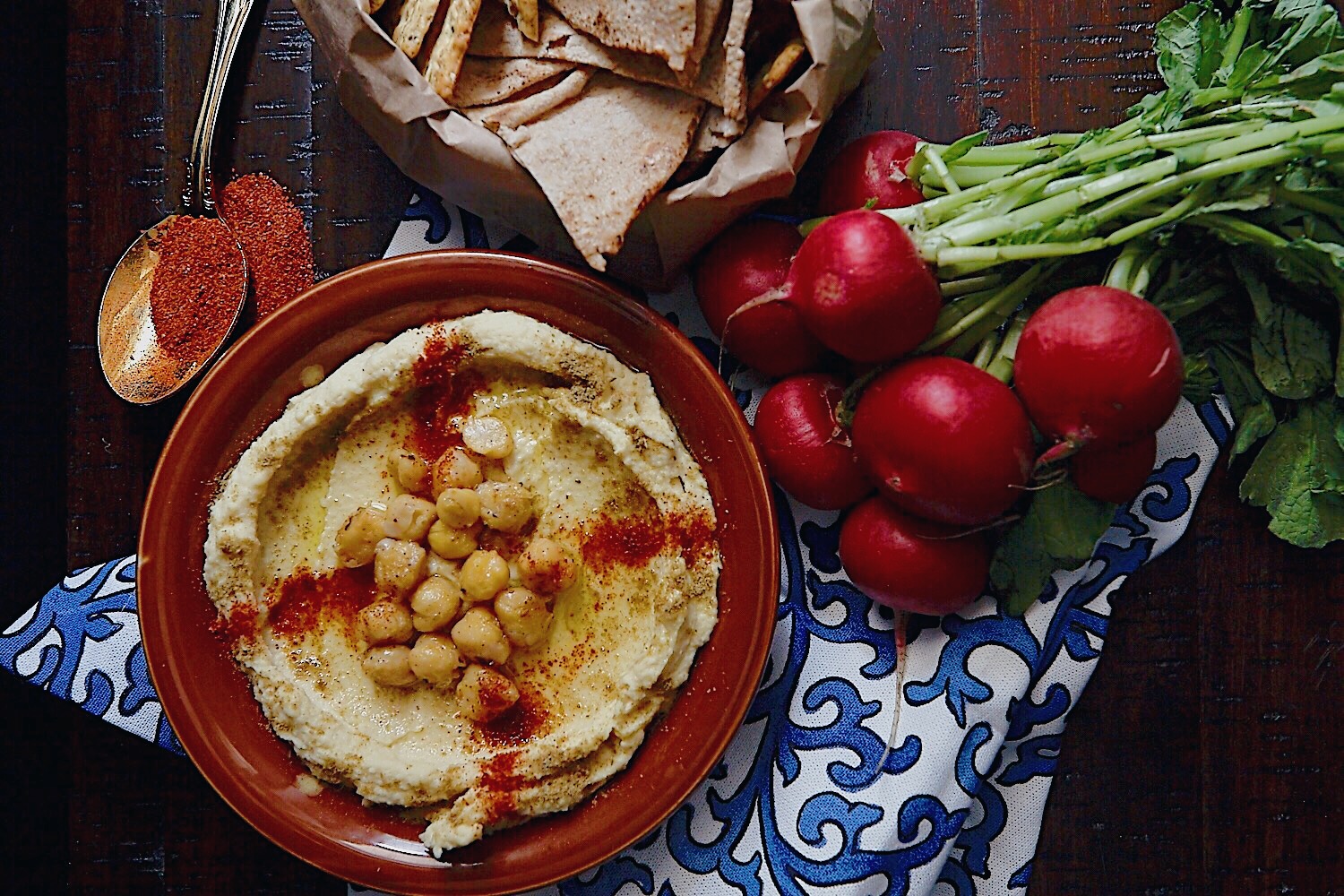 Two-Way (5 minute) Hummus
This takes me back to my real roots. When I first moved to the states Hummus was not yet popular, but fast-forward to 2017 hummus became an American fridge staple. So here it is - my 5 minute, 5 ingredient hummus + a traditional topping that transforms this dip from basic to extra!
Side note: Hummus can be stored for up to two weeks in the fridge
Photos by Brandon Kaiser
Total Time: 5 minutes
Serves: 4-6 people
Yield: 1 Quart
INGREDIENTS
Hummus:
2 15-oz cans chickpea, drained

2 garlic cloves, peeled and smashed

½ cup tahini paste (preferably al-wadi)

¾ cup extra virgin olive oil

1 lemon, juiced

2 tsp cumin, ground

Salt, to taste
Ground-Lamb Topping:
1 tbsp olive oil

½ lb ground lamb (or any ground meat)

1 tsp pomegranate molasses

1 tsp 7-spices seasoning

Salt, to taste

¼ cup pine nuts, toasted

¼ cup pomegranate seeds
INSTRUCTIONS
Hummus:
1. Add chickpeas, garlic, cumin, and salt to a food processor and pulse on low for 30 seconds.
2. Add lemon juice, and tahini paste and pulse on medium for one minute.
3. Accelerate the speed to high and add olive oil slowly until it is fully incorporated. Pulse the hummus for 2 minutes or until it becomes a smooth consistency.
4. Plate, and garnish with paprika/chile powder, drizzled extra virgin olive oil, and a few chickpeas.
5. Voila! Ready to enjoy, dip away kids.
Ground-Lamb Topping:
1. In a medium sauté pan, heat olive oil over medium-high heat.
2. Add ground meat, pomegranate molasses, seasoning, and salt.
3. Cook for 3-5 minutes or until meat is fully cooked.
4. Adjust seasoning, and incorporate the pine nuts.
5. Serve as a topping on hummus, and garnish with pomegranate seeds.
6. Enjoy!