Lebnaese Varenyky
A few years ago, I found this beautiful, mostly plant-based food blog, called The New Baguette. After many years of following her on Instagram, I finally messaged Alex, who runs The New Baguette, hoping that we could collaborate on fun recipes together. After bouncing a few ideas with each other, Alex told me about varenyky, Ukrainian stuffed dumplings.
I have always been intrigued by dumplings from different cultures. Empanadas from Mexico. Mandu from Korea. Sambousek from Lebanon. Ravioli from Italy! They are all basically savory fillings, wrapped in a dough, and living in Greenpoint, I eat my fair share of Polish pierogis.
Alex is Ukrainian, and when she introduced me to her take on traditional varenyky with potato filling and fried onions, I immediately thought of ways to add my Lebanese twist — falafel!
We decided to have fun with the recipes by making different falafel fillings with different doughs. Since it was our first time making this together, we weren't sure how these would come out, but we were pleasantly surprised how delicious they were. Herbaceous, fresh flavors of falafel fillings worked so well with chewy, crispy dough.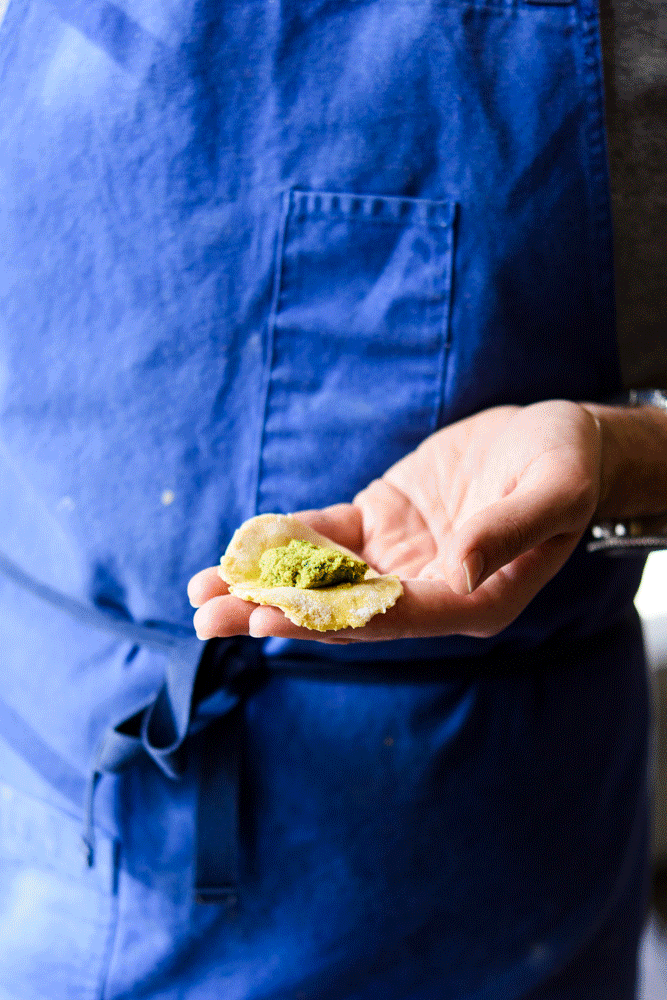 For Basic Falafel Varenyky, I kept things simple but added a bit of turmeric to the dough for extra color. The falafel filling is a standard falafel recipe, so if you want to make falafels, you can simply omit the dough and fry the filling alone. Just like making dumplings, you add the filling and close the dough into a half-moon shape and pinch the ending so that they are stuck together. It's super easy and no need to feel intimidated!
Now you have the basic version, have a little fun by adding different flavors and mix & match! Alex and I made two other varieties, inspired by the original.
These varenyk are great as they are, but they are even better with flavorful dipping sauce. Alex has a great recipe, cilantro-lime tahini dressing, which pairs so well with these varenyk. It's tangy, bright, and just full of flavors!