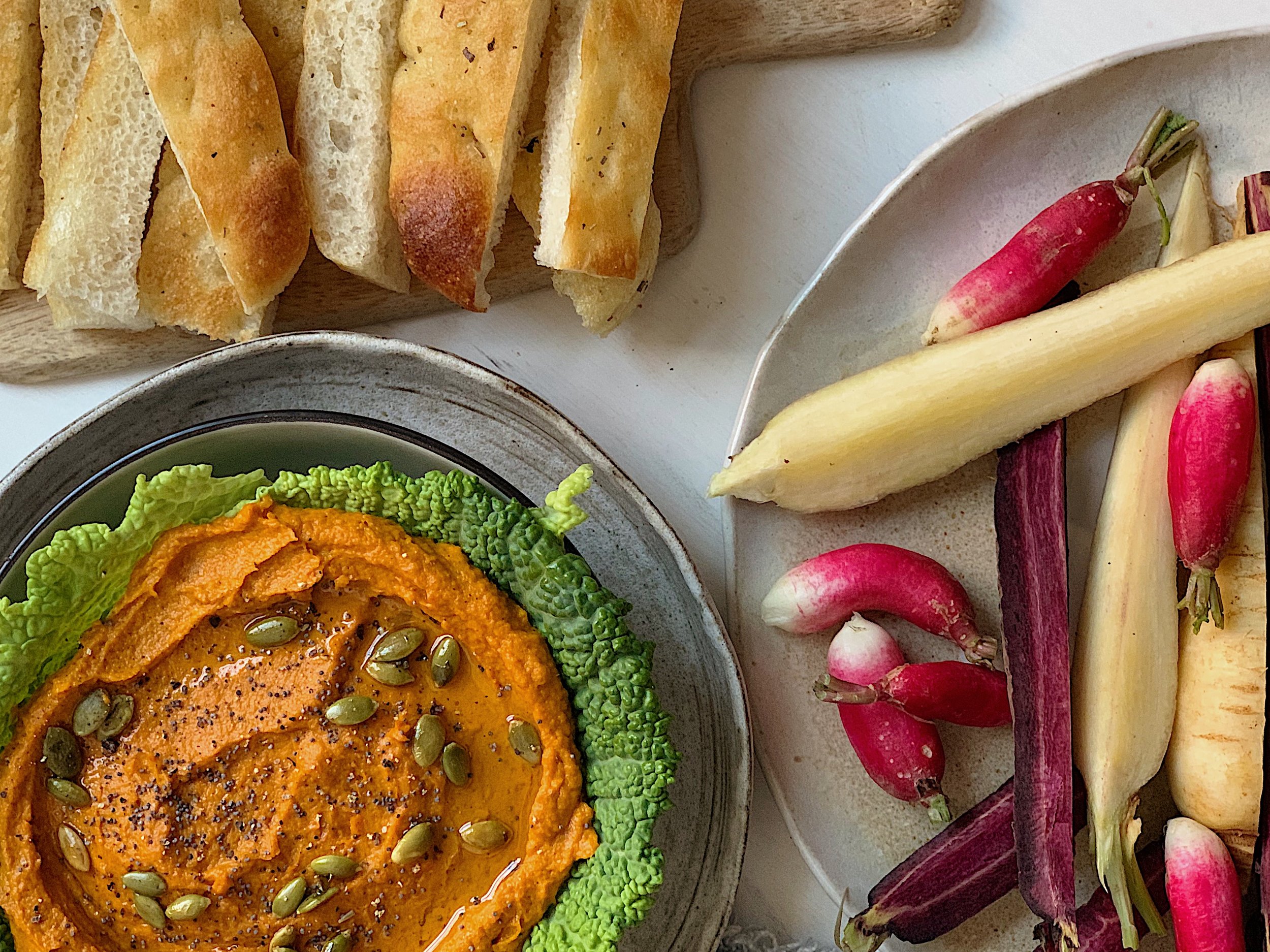 Maple Orange Carrot Dip
Fall is upon us, which means I've begun writing my fall menu. As I was researching for new vegan mezze dips to include in my upcoming menu, I came across Bon Appetit's Smoky Carrot Dip recipe. I loved how their recipe combined smoky cumin flavors with carrots, but I wanted to have more carrot-forward dip without using chickpeas. So, I roasted the carrots to deepen the flavors, and I used both freshly squeezed juice and the zest of an orange to brighten the color and the taste.
Combined with the sweetness of maple syrup, this has become my new fall favorite dip. I served it with a few big leaves of cabbage, which provided an excellent foundation to plate. Be sure to add this dip when you are making your next fall-inspired #BrownPaperBoard!
Total Time: 20 minutes
Makes: 6 servings
INGREDIENTS:
1.5 lbs of peeled, chopped carrots

1/2 tbsp salt

2 tsp cumin, divided

1/4 cup tahini

2 cloves of garlic

1 orange, juiced and zested

2 tsp maple syrup
INSTRUCTIONS:
Preheat the oven to 350F.

Toss your chopped, peeled carrots with EVOO, salt, and 1 tsp of cumin and bake it in the oven for 15 minutes until they are fork-tender. *SIDE NOTE: we are not looking for colors here!*

Add your roasted carrots into the food processor along with tahini, garlic, the remaining amount of cumin, juiced and zested orange, and maple syrup. Pulse it until the mixture becomes smooth. Season it with salt to taste.

If the dip turns out too thick, add iced water to thin it out.

Serve it with crudites or crackers. Enjoy! You can keep this dip up to 10 days in the fridge.