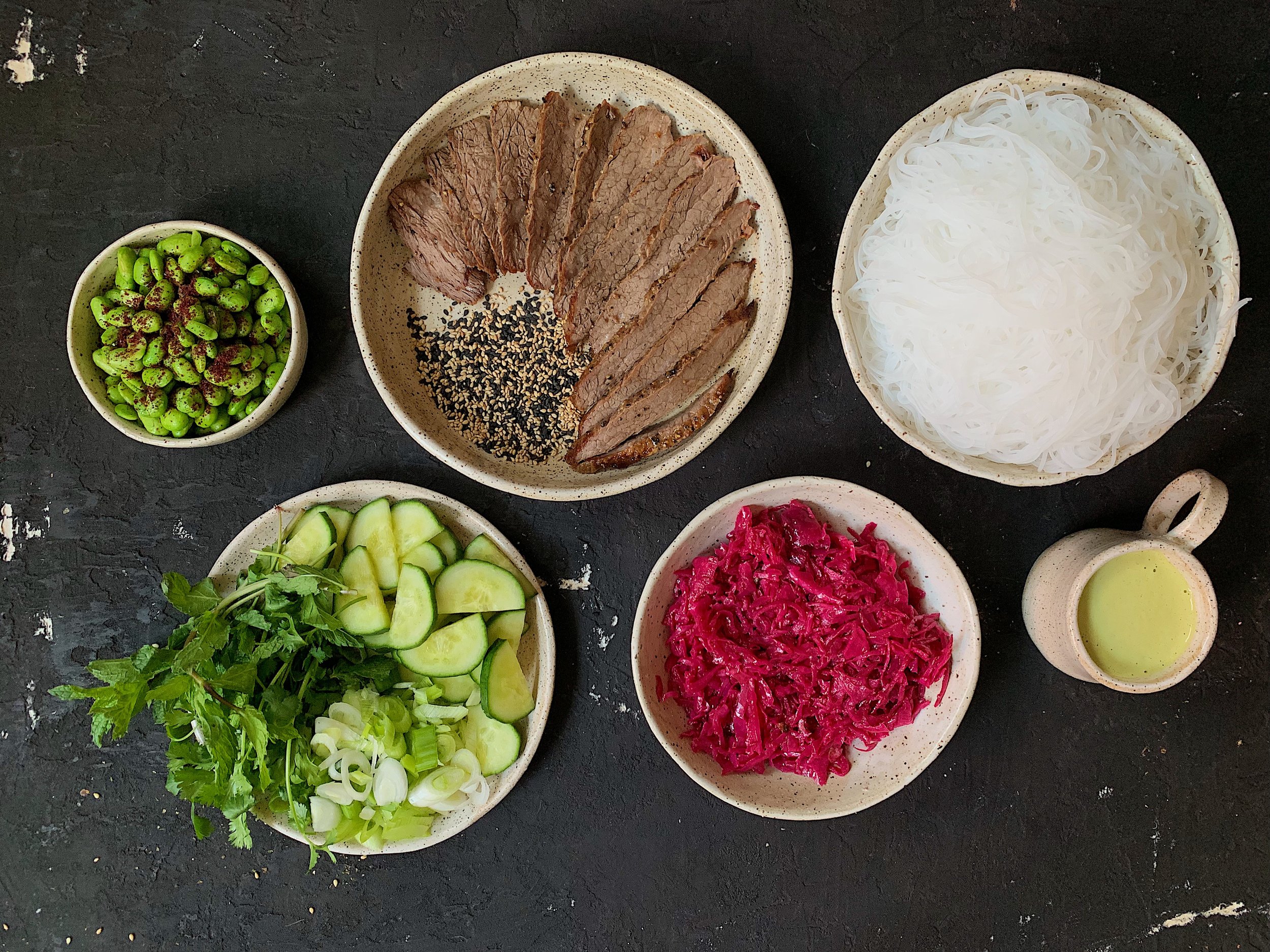 Weekday Tahini Rice Noodle Bowl
When it's hot outside, the last thing that I want to do is to turn on the oven. I try to minimize any cooking that involves heat, but I don't want to skimp on flavors either. And, that's how this delicious, but easy-to-assemble rice noodles bowl is my new favorite summer dish.
It's quick to assemble, highly customizable, and just overall feel-good clean lunch. You can use leftover protein, such as rotisserie chicken or grilled salmon or shrimp, to make this meal more wholesome.
Total Time: 30 minutes
Makes: 4 servings
INGREDIENTS:
8oz rice vermicelli noodles

1.5 lb flank steak

1/2 English cucumber, sliced in half moon

1 cup edamame

1 tsp sumac

1/4 cup pickled red cabbage

1 bunch cilantro, hand-torn for serving

1 bunch mint, hand-torn for serving

1 cup of cilantro tahini dressing

white and black sesame for garnish
INSTRUCTIONS:
Bring a medium pot of water to boil. Cook the noodles based on the package. Transfer the cooked noodles to ice-cold water bath from being overcooked. Reserve them on the side.

Meanwhile, season the steak with salt and pepper and grill it over high heat for 2 minutes each side. Let the meat rest for 5-7 minutes.

Toss edamame with sumac. Put it on the side.

After resting the meat, slice the flank steak against the grain.

Drain the rice noodles and transfer them to a big, shallow serving platter. Top the noodles with sliced cucumber, sumac-tossed cucumber, pickled red cabbage, hand-torn min, and cilantro.

Drizzle the cilantro tahini dressing and toss everything together. Garnish with sesame seeds.