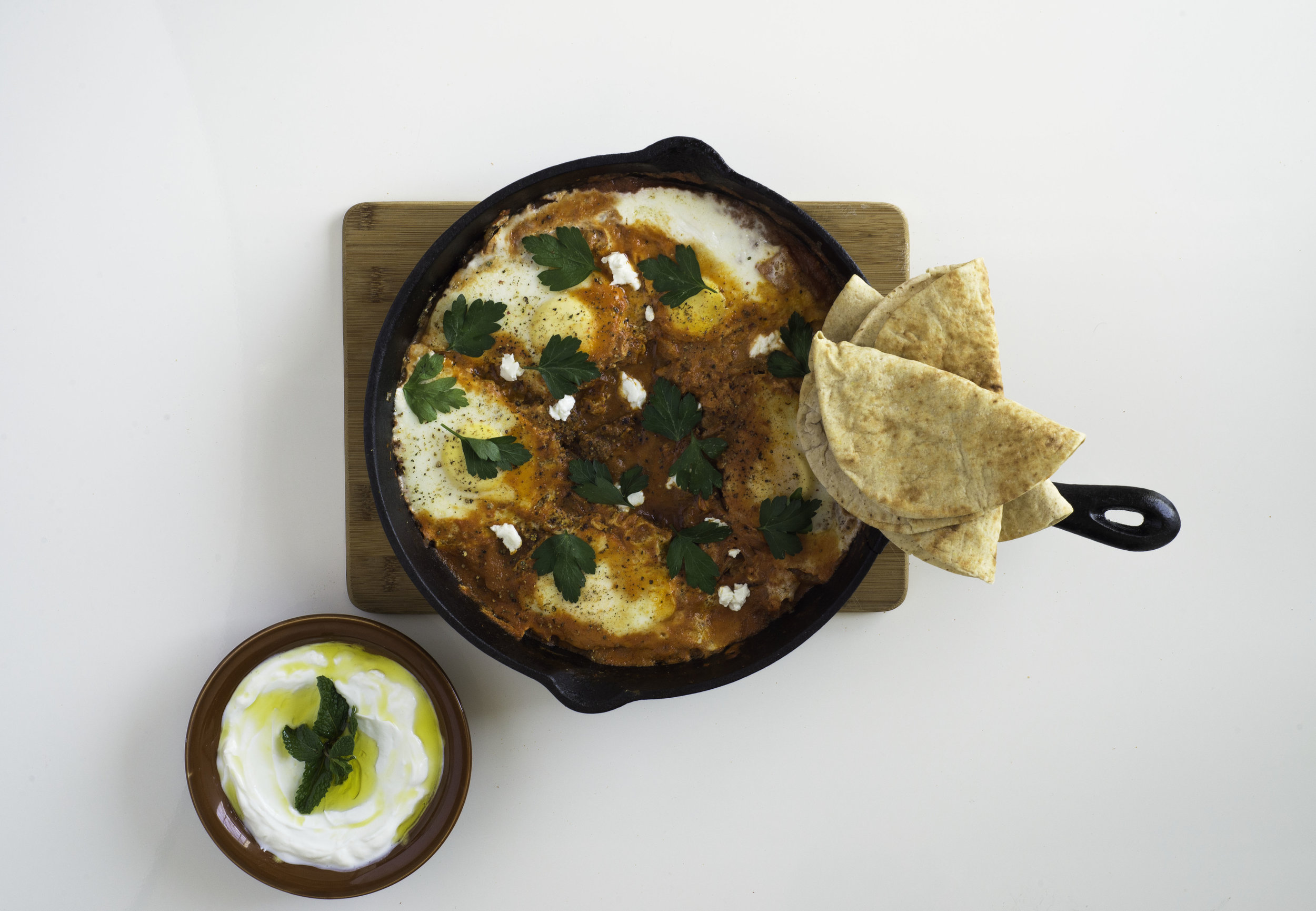 Shakshuka!!!
This is the ULTIMATE most epic TASTIEST flavorful OUTSTANDING BRUNCH EVER! No but really this is the best crowd pleaser. It's hearty yet healthy and delicious. Shakshuka is a Moroccan breakfast food. This my way of making it. You can make this meal vegetarian by easily switching the sausage to vegetables like mushrooms or spinach! So invite a few friends over and make a homemade brunch for once!
Video + Photos by Sean Fagan
Total Time: 25 minutes
Serves: 4 people
INGREDIENTS
1 tbsp EVOO

1 large onion, peeled + sliced

2 garlic cloves, peeled + finely chopped

1 tbsp ground cumin

1 tbsp aleppo pepper (or paprika)

3 sausages, casing removed

1 can diced tomato

2 large tomato, diced

Salt + Pepper

¾ cup, goat cheese ½

5 eggs

6-7 parsley leaves (garnish)
INSTRUCTIONS
1. Preheat oven to 400F.
1. In a large cast iron skillet, drizzle extra virgin olive oil over high heat.
2. Add onions and cook for 5-7 minutes or until it translucent and changing color.
3. Add garlic, cumin, and aleppo pepper and cook for another 3-4 minutes.
4. Add the sausage, and mix well. Cook for 3 minutes.
5. Stir in the canned tomato, and fresh tomato. Season well with salt and pepper. Simmer for 5 minutes or until tomato juiced have thickened up.
6. Crumble ½ cup of goat cheese, and mix with tomato sauce.
7. Crack eggs on top of tomato sauce. Season with salt and pepper.
8. Bake for 8 minutes.
9. Garnish with crumbled goat cheese, and parsley!
10. I normally enjoy this with a side of greek yogurt, pita bread, and cold brew! Cheers!!!